What is Quinoa pulses called in Kannada with how to pronounce and transliteration in english?
Category
:
Pulses
English
:

Quinoa
English Pronounciation
:
Scientific Name
:
Chenopodium quinoa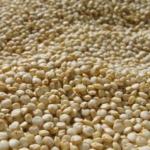 User Answers for Quinoa in Kannada:
Quinoa is south American staple food. There is no kannada name. Quinoa is world's healthiest food. Shop online for Quinoa at www.saiwholefoods.com .