What is Catfish called in Oriya with how to pronounce and transliteration in english?
Category
:
Fish Names 
English
:

 Catfish
English Pronounciation
:
Scientific Name
:
 Ictalurus punctatus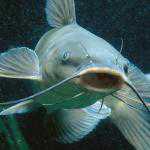 User Answers for Catfish in Oriya:
all cat fish are not magura it is kamada
I think this resemblences to Balia (Fresh water magura like found in Rivers water) Usually they grow very large some even 15-20kg. Unlike Balia, Maguara are found in damp and swampy water(black in color). Balia are white color. Catfish resemblence more to Balia then Maguara.